Best Bathroom Remodeling Contractors In Toronto, Ontario, Canada
Making Luxury Affordable
Looking to Remodel your dream bathroom? Look no further, We're the Best Bathroom Remodeling Contractors In Toronto, Ontario, Canada. Our team of experts can guide you through the entire process of remodeling your bathroom, from finding the correct product selection to project advice, technical specifications and much more. We're one stop shop for all your bathroom needs.
We are one of Toronto's Premier Bathroom Renovation Companies with over 21 years of experience, you are assured of professional service, quality workmanship, excellent products and outstanding service. Remodeling a bathroom is a project that requires coordination between the seller and the customer.
Visit our showroom at anytime or Book an appointment to see our collection of bathroom faucets, shower kits, freestanding bathtubs, shower doors, we're truly one stop shop for all your bathroom purchases.
Remodeling is about transforming your house into the home that you've always wanted. Before you decide to do anything, you need to know what your end goal is for your home. Are you remodeling to raise the value of your home, or will you be staying put for years to come? Having a specific plan in place for your future will help you decide how to go about your bathroom renovation project.
We carry all the major brand bathroom products at competitive prices at our huge showroom in Toronto (Markham), Ontario, Canada. We work together with you to understand your needs and wants keeping in mind your budget and make sure you are completely satisfied with the final result of your project of renovating, remodeling or redesigning your bathroom.
We provide full bathroom remodeling services.
---
How Much Does It Cost To Remodel Or Renovate A Bathroom In Toronto?
The cost of Remodeling a bathroom can vary depending on the scope of the project. There are many different factors that come into play, such as the size of the bathroom, materials, bathroom fixtures upgraded and more. Most importantly depends on the design home owner chooses with quality of finishing materials and fixtures.
To find out your bathroom remodel or renovation cost, call us today at 9O5-944-0060 and get a free consultation. No matter what your budget is, we will complete your project within your budget and on time. Our team will help you build your dream bathroom at a affordable cost.
---
Is it Worth Remodeling Bathroom?
Investing in remodeling bathroom will increase the value of your property and improve your living lifestyle. You need to be selective about your investment to ensure that you get the best results with the money that you will be spending. This is were we can help and build your dream bathroom within your budget.
Here Are Few Mistakes to Avoid When Remodeling Your Bathroom In Toronto
Starting work without a contract and plan
Setting an unrealistic budget
Not working with the right company
Working without a permit
Trying to be your own general contractor
Taking wrong measurements
Not asking enough questions
Buying cheap materials
---
Why Choose Us For Your Next Bathroom Remodeling Project?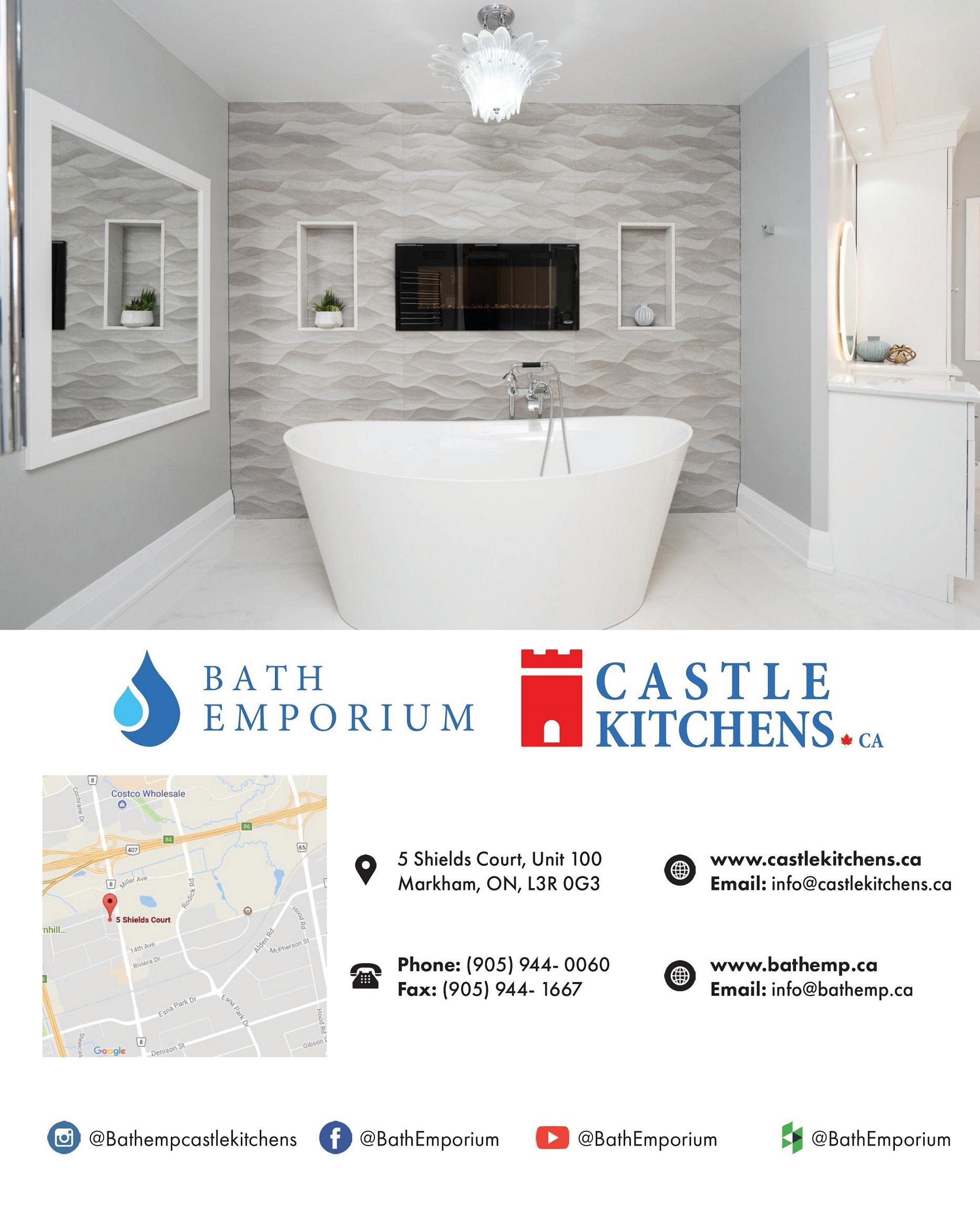 We are experts at bathroom and kitchen renovations and over 21 years of experience of helping customers in the Greater Toronto Area built their dream homes. What makes us different from other companies is we carry all the bathroom products at our showroom and have them on display. You won't have to shop from one place to another. We are also experts at kitchen renovations as well.
The experts at Bath Emporium will work very closely with you in your home renovation project to design a beautiful and elegant bathroom. It's our mission to make this process as easy and effortless as possible.
We have completed many bathroom renovation projects in Toronto, Markham, Richmond Hill, Thornhill, Unionville, Aurora, Stouffville, Newmarket, Uxbridge, North York, Scarborough, Brampton, Mississauga, Pickering, Ajax, Whitby, Oshawa, Concord, Woodbridge, Vaughan, and Etobicoke.
And so, if bathroom remodeling, redesign and renovations are in your thoughts, and you live the Greater Toronto Area (GTA), then stop by our huge bathroom showroom. We are conveniently located at Woodbine & 14th Avenue and are opened 7 days a week. If you have any questions about bathroom remodeling please feel free to call us at (905) 944-0060 or email us at info@bathemp.ca.
Our knowledgeable professionals will assist you every step of the way to help build your dream home or bathroom. Drop by our showroom in Toronto and experience the difference Bath Emporium has to offer. We offer a free consultation for your home or condominium bathroom.
We look forward to seeing you soon at our bathroom showroom near Toronto.