Best Custom Made Bathroom Vanities In Toronto, Ontario, Canada
Beautiful Looking Bathroom Vanities You'll Love In 2022
We offer the best selection of ready or custom made Bathroom Vanities In Toronto, Ontario, Canada. Give your bathroom an instant makeover with our collection of beautiful looking bathroom vanities at affordable prices.
Custom-made to ready-made vanities and cabinets in different styles, sizes and finishes are part of our collection. Built to your space and specifications. Be it antique, traditional, transitional, modern or contemporary style bathroom vanity, at Bath Emporium you are sure to find the right style at affordable price that you have in mind.
We understand how important bathroom vanities are to the overall flow, function and storage space of your bathroom. Breathe life into your bathroom with our wide selection of Beautiful Bathroom Vanities and give you endless options to choose from and add luxury experience to your life.
Bathroom vanities are an essential piece to any functional modern bathroom. Whether you have a small or large space, you'll need a sink and storage space.
Our huge showroom is located in Toronto (Markham), Ontario, Canada, is conveniently accessible to customers around Greater Toronto Area, Richmond Hill, Woodbridge, Thornhill, Stouffville, Uxbridge, Aurora, Newmarket, Scarborough, Pickering, Ajax, Whitby, Brampton, Mississauga and Etobicoke who are looking for bathroom Vanities.
---
Our Collection Of Bathroom Vanities Includes: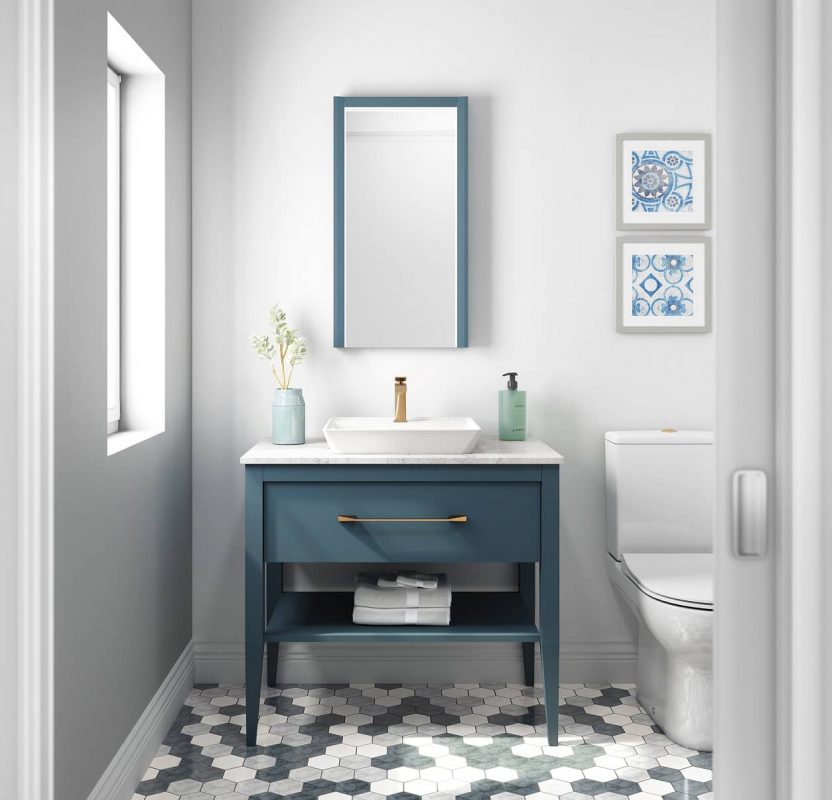 We carry standard size bathroom vanities and should you require a custom made vanity, we would be happy to accommodate your needs in making that perfect fit to suit your bathroom.
Our custom made vanities are of unsurpassed standards that do not compromise quality and affordability. We take pride in our workmanship.
Our collection of bathroom vanities are made by renowned manufactures such as Madeli, Bliss Bath, Vanico Maronyx, Fairmont Designs, Unik Stone, Sonia, And Macral.
If you are looking for Bathroom Vanities in Markham or Toronto area, stop by our huge showroom for a great selection of Vanities that are on display and for you to look and view.
Vanico Maronyx Bathroom Vanities
Since its foundation in 1980, Vanico Maronyx privilege human creativity and manufacturing technology to offer the best quality of personalized and well-designed bathroom products. Vanico embodies the evolution of today's bathroom.
Vanico products are manufactured near Montreal, Quebec, Canada.
Their beautiful vanities are available in 24 Inches To 82 Inches and over. There are many different types and styles of vanico bathroom vanities available from Modern Traditional, Classic, to Victorian Style Vanities.
---
Madeli Bathroom Vanities Collection
Madeli Bathroom Vanities available in different sizes, styles and finishes.
These Vanities are manufactured around the concept that design, function and value are decisive considerations in consumer purchasing decisions.
Madeli team has over 50 years of combined experience and they've applied the knowledge gained from extensive industry research to determine the latest consumer trends while respecting the classic and historical styling.
Their manufacturing philosophy is to use the highest-grade materials and the most reliable brand hardware available to the industry.
---
Fairmont Designs
Fairmont Designs Offers Traditional, Classic, Transitional, Contemporary bathroom vanities. We carry the complete collection of their vanities.
The sizes include 18″, 21″, 24″, 30″, 36″, 42″, 48″, 60″ And Up vanities.
Since 1984, we at Fairmont Designs have been creating products that stir the imagination and bring life to your home furnishings dreams.
---
Bathroom Vanities Sizes And Styles We Carry Includes:
---
Why Buy Bathroom Vanities in Toronto From Us?
Here are a few reasons as to why you should consider buying your next bathroom vanity at Bath Emporium.
We have our own delivery service, so you get your vanity fast and safely.
Massive showroom near Toronto, Ontario, with displays of custom made to ready made bathroom vanities.
One stop shop for all of your bathroom and kitchen renovation needs.
We carry the best and high-quality name brands.
100% Satisfaction Money back guarantee.
We have the wide selection of bathroom vanities for you to Choose. From contemporary, modern, traditional, wall mounted, transitional vanities.
Our knowledgeable professionals will assist you every step of the way to guarantee your satisfaction.
Our team of experts can guide you through the entire process of choosing the best vanity for your bathroom project, from finding the correct vanity selection, size, technical specifications and much more. We're one stop shop for all your bathroom renovation needs.
---
When it comes to choosing the best Bathroom Vanities In Toronto, Ontario, Canada, there is no better place for selection and quality other than Bath Emporium.
Whether you're building your very first home or renovating your bathroom, our collection of bathroom vanities provide the best features at the best value.
Building your dream home is easier and more accessible than you might think.
Our knowledgeable professionals will assist you every step of the way to make sure your vanities are to your satisfaction. Should you need a free quote, for a particular style and size, please Contact Us or Give us a Call at (905) 944-0060. and we'll be happy to provide you with one.