Best Bathroom Vanities Of 2023 Available In Toronto, Ontario, Canada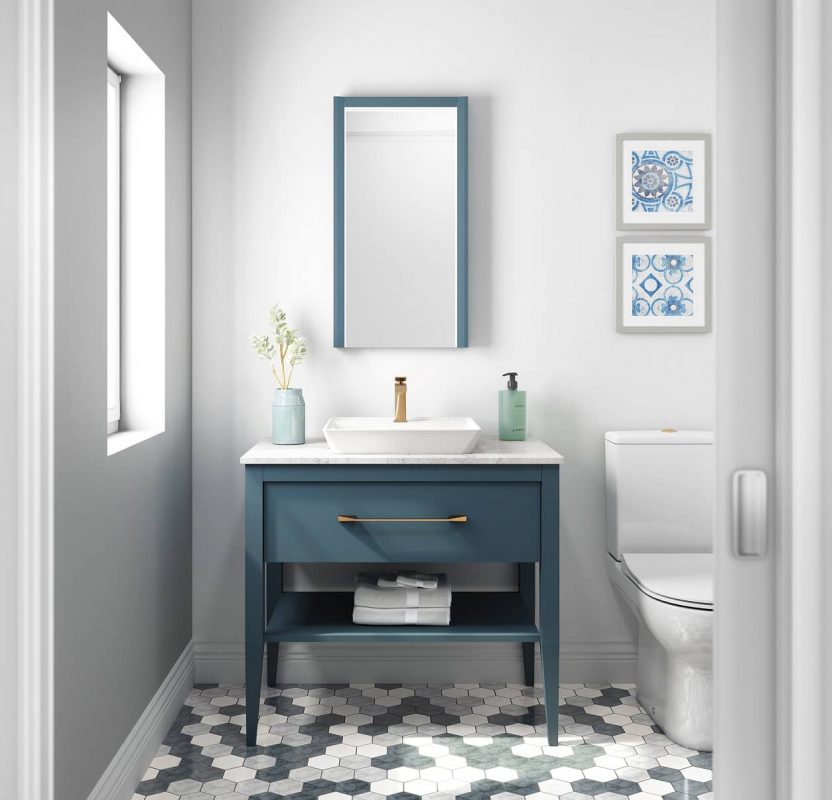 Beautiful Looking Vanities You'll Love
When it comes to Best Bathroom Vanities In Toronto, Ontario, Canada, there is no better place for selection and quality other than Bath Emporium. Explore our huge selection of custom made to ready made vanities available in different sizes, finishes, styles, and materials. Built to your space and specifications. Give your bathroom an instant makeover with our beautiful looking bathroom vanities at affordable prices.
Bathroom vanities are an essential piece to any functional modern bathroom. Whether you have a small or large space, you'll need a sink and storage space. Check out our collection of Best bathroom vanities to help you decide which option will be perfect for you.
These vanities are available in Single or Double Sinks. Sizes include 24 Inch And Under, 25 Inch To 31 Inch, 32 Inch To 37 Inch, 38 Inch To 48 Inch, 49 Inch To 60 Inch, 61 Inch And Over.
Our team of experts can guide you through the entire process of choosing the best vanity for your bathroom project, from finding the correct vanity selection, size, technical specifications and much more. We're one stop shop for all your bathroom renovation needs.
Our Collection of Bathroom Vanities are made by Vanico Maronyx, Fairmont Designs, Madeli, Sonia And Unik Stone. We carry the best, Transitional, Transitional, Wall And Floor Mounted, And Modern Style Bathroom Vanities.
---
The Best Bathroom Vanities Of 2023 Available In Canada
Vanico Maronyx Neolito Vanities Collection
Neolito Vanity In Transitional Style
Neolito Vanity In Contemporary Style
The Neolito collection illustrates Vanico Maronyx's aim to offer highly customizable, attractive and functional products. The collection offers something for every bathroom, from the smallest to the largest, as well as contemporary and transitional decors.
Behind its sleek look, the Neolito collection conceals solutions designed to improve everyday functionality: a laundry basket, a hairdryer holder, a booster step for children and much more!
Its 1 to 5 door medicine cabinets include many practical accessories (head with LED lighting, electrical outlet, towel bar and all-purpose compartment). Vanico Maronyx also offers lockable drug storage and a beauty and make-up area with integrated barber cape.
Flexible and functional, this collection will satisfy the storage needs of the entire family.
Made in Quebec, Canada.
---
Best Powder Room Vanity
Vanico Maronyx Fuzion Powder Room Vanity
Console cabinet enhanced with black mat metallic accents for a stylish and refined powder room.
Available with one or two sinks, the Vanico Fuzion Powder Room Vanity sink bases are offered in 3 different versions:
Without drawer, with a 3 1/2 "countertop.
With drawer, 3/4 "countertop and undermount sink.
With drawer, 3/4 "countertop and sink vessel on countertop.
Available in 24″, 30″, 36″, 42″, 48″, 54″, 60″, 66″, And 72″ Sizes.
Made in Quebec, Canada.
---
Madeli Best Collection Of Bathroom Vanities
Functional Elegance, is the motto and two words that capture the very essence of Madeli's design philosophy. European influenced, their designs are boldly elegant and stylish, while maximizing the modern functionality demanded by today's educated and discriminating consumers.
Madeli Bathroom Vanities are manufactured around the concept that design, function and value are decisive considerations in consumer purchasing decisions. Their design team, with 50 years of experience in market research has brought together the latest consumer trend and elegant, functional designs to make the bathroom one's very own sanctuary.
SUPERIOR QUALITY AND CONSTRUCTION
Madeli manufacturing philosophy is to use the highest-quality materials and the most reliable brand hardware available to the industry. Their wood finishes feature furniture grade plywood layered with solid wood veneer inside-out and protected by several layers of polyurethane coating for durability, waterproofing and peace of mind.
---
Vanico Maronyx Best Bathroom Vanities Available In Canada
Vanico-Maronyx embodies the evolution of today's bathroom. Since its foundation in 1980, Vanico Maronyx privilege human creativity and manufacturing technology to offer the best quality of personalized and well-designed furniture and sanitary products.
There are many different types and styles of vanico maronyx bathroom vanities available from Traditional, Classic, Victorian, to Modern Style Bathroom Vanities.
Their products are manufactured near Montreal, Canada.
---
Fairmont Designs Best Bathroom Vanities Available In Canada
Since 1984, Fairmont Designs have been creating products that stir the imagination and bring life to your home furnishings dreams. Their collections embrace design themes ranging from traditional to transitional, contemporary to rustic; sophisticated to casual.
Fairmont Designs offers Classic, traditional, transitional, contemporary; with coordinating bathroom accessories to make your bathroom standout from the rest. These vanities are available in 21″, 24″, 30″, 36″, 42″, 48″, 60″ And Up.
---
Why Buy Bathroom Vanities in Toronto, Ontario, Canada, From Us?
We have our own delivery service, so you get your order fast and safely.
Massive showroom with displays
We carry the best and high-end vanity brands
Over 21 years of experience in helping customers build their dream homes all around Canada.
We are One stop shop for all of your bathroom and kitchen renovation needs.
We have the best selection of bathroom vanities for you to Choose, from contemporary, modern, traditional, wall mounted, and transitional vanities.
Our knowledgeable professionals will assist you every step of the way to guarantee your satisfaction
---
Our knowledgeable professional team will assist you every step of the way to make sure choose the best bathroom vanity that's perfect for your dream bathroom. Should you need a free quote, for a particular style, size, have any installation questions or about vanity tops, please Contact Us or Give us a Call at (905) 944-0060 and we'll be happy to provide you with one.
We ship products to all provinces in Canada including Ontario, Quebec, British Columbia, Alberta, New Brunswick, Nova Scotia, Prince Edward Island, Newfoundland and Labrador, Saskatchewan, And Manitoba. We also ship to USA as well.
Cities include Toronto, Markham, Mississauga, Brampton, Calgary, Vancouver, Barrie, Hamilton, Burlington, Sudbury, Kingston, Kitchener, Cambridge, Waterloo, London, Niagara Falls, Windsor, Ottawa, Gatineau, Edmonton, Richmond Hill, Pickering, Vaughan, Stouffville, Newmarket, Oshawa, Fredericton and more.