Best Kitchen Faucets (2021) Available In Toronto, Ontario, Canada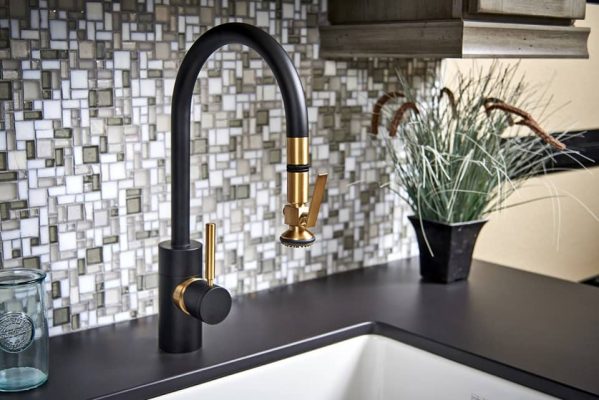 The kitchen is the heart of any modern home, and we tend to spend a lot of time in the kitchen. It deserves to not only look great but to also offer the utmost in functionality. It's very important to choose a suitable kitchen faucet that will make your daily tasks much easier.
The curve of a spout, the jeweled tone of a handle, a smooth finish—every detail makes a world of difference for kitchen taps. Our collections bring together global provenance, handcraft, and innovation in classic to modern designs and styles.
With over hundreds of styles and finishes to choose from, picking the best kitchen faucet for your home can be can seem like a difficult task. Bath Emporium carries a huge display of Kitchen Faucets to suit any type of kitchen.
---
The Best Kitchen Faucets In 2021
Riobel Azure Kitchen Faucet With Spray
The Azure Faucet comes with an ingenious Boomerang pull-down spray system, which allows the sprayer to return to its original position quickly and easily. The hose is made of braided nylon, which is a silent and durable material, and the sprayer has an integrated swivel joint for easy handling to rinse vegetables, wash the sink and even fill a pan or pot with water.
Available in Chrome, Stainless Steel, Black, And Brushed Gold Finishes.
FEATURES
Dual-spray functionality with ability to toggle between stream and spray settings
Integrated swivel is attached to the pull-down hose with a pivotable ball joint that makes it easy to direct water to all corners of your sink
Boomerang pull-down technology & seamlessly & integrates sprayer into the spout while returning & it & quickly and easily to the sprayer's & original position
Handspray retracts seamlessly into the spout
Swivel spout can rotate 360 degrees for greater sink accessibility
Flow rate of 1.5 GPM at 60 PSI for effective cleaning while optimizing water usage
Matching Bar/Food Prep kitchen faucet is available
Purchase with confidence knowing that this product is backed by limited lifetime warranty
Ceramic disc cartridge for durability and long-lasting performance
---
ROHL Tenerife Pull-Down Kitchen Faucet With C-Spout
The ROHL Tenerife Kitchen Faucet turns the intricate details of this exotic palm into an eye-catching element. The crosshatch embossing on the handles and base replicates the natural diamond-shape pattern of the tree trunk.
The faucet column rises in height, mirroring the stature of the tropical palm, accompanied by the long arc of the neck. Tenerife Collection brings a natural island element into kitchens of transitional and modern style.
The collection includes multiple finishes, including Polished Chrome, Polished Nickel, Satin Nickel, Matte Black and including a brand-new Antique Gold finish.
FEATURES
Dual-spray functionality with ability to toggle between stream and spray settings
Flow rate of 1.75 GPM at 60 PSI for effective cleaning while optimizing water usage
Retractable pull-down metal handspray with secure docking system
Nylon braided hose delivers quieter functionality
Solid brass construction delivers the utmost in beauty, durability and long-lasting performance
Ceramic disc cartridge for durability and long-lasting performance
Requires 2 1/2″ clearance from backsplash to center of faucet hole
---
The Best Kitchen Faucet Collections Available In Canada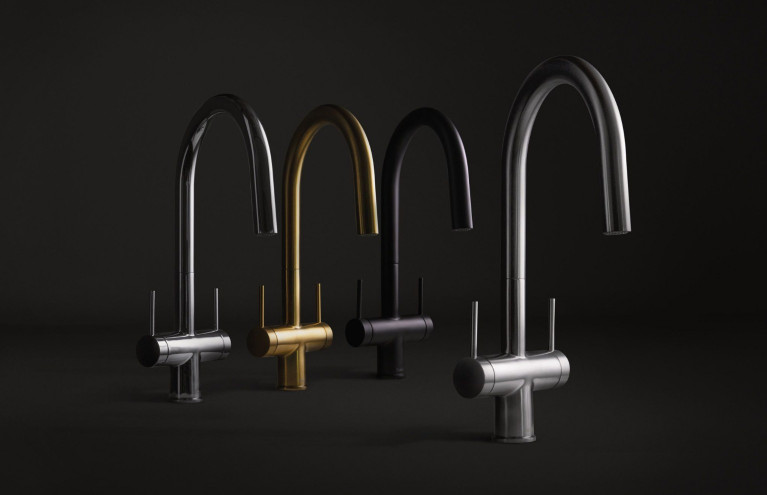 Riobel Azure Kitchen Faucets Collection
Beauty In Motion
Like the arc of an ocean wave, the Riobel Azure Collection captures a sense of motion and artistry. A modern silhouette with clean lines and minimalist handles, it's the perfect meeting of form and function.
The Collection is equipped with Riobel Boomerang retractable pull-down hand spray, which returns to its original position quickly and easily, while the integrated swivel adds true flexibility, making kitchen chores effortless.
Riobel kitchen faucets feature brilliant engineering along with beautiful and high design. A wide variety of configurations are available, including pull-down faucets with unique Boomerang retraction technology, pull-out faucets for extended reach, coordinating bar and food prep faucets, and bridge kitchen faucets with dual-spray functionality.
The unique features offered in each kitchen tap serve a very specific purpose. Flexible spouts, retractable hand sprays and desirable colors and finishes are just a few of the reasons why Riobel faucets stand out from the rest.
---
Perrin & Rowe Armstrong Kitchen Collection
The Perrin & Rowe Armstrong Kitchen Faucets collection is perfect blend of modern luxury and industrial design. The collection includes a single-lever faucet pot filler, a classic bridge and bar faucet, both available with a pull-down rinse.
Perrin & Rowe kitchen faucets, fixtures and accessories are distinguished by their classic and ornate English styling, which complements traditional settings with exquisite style and uncompromising performance. Perrin And Row products are designed and produced in England using the most advanced manufacturing processes.
---
Waterstone Kitchen Faucets Collection
Waterstone kitchen faucets blend tradition and state-of-the-art technology. Their traditional and contemporary designs are rich in tradition and add a lifetime of elegance to any kitchen design. The single lever handles can be easily mounted and positioned with handle in front, right or left.
Waterstone Faucets are proudly made in California, USA and Available in 32 different finishes.
Our collection of Waterstone Faucets include Pulldown Faucets, Gantry Faucets, Bridge Faucets, Kitchen Faucets, Prep Faucets and Pot Fillers. Add matching accessories and filtration faucets that will dazzle any kitchen. Waterstone's concept is to create a matching ensemble of products that cover all faucet needs of one's own kitchen.
---
ROHL Kitchen Faucets Collection
Bringing Authentic Luxury To The Kitchen
Rohl brings the awe inspiring feeling of pure luxury to your kitchen.
What distinguishes them is is their high standard for performance, reliability and beauty. ROHL Kitchen Faucets focus on premium materials, simple installation and attention to detail. They're always searching for the incomparable, whether touched by hand or forged through new techniques, rooted in the past or looking toward the future.
---
Grohe Kitchen Faucets
Kitchen Faucets With Best-In-Class Design And Engineering
Grohe kitchen faucets are very popular not only in Canada And USA, but all around the world.
They are recognized as one of the leading kitchen faucet brand used in custom homes and upscale home projects. Grohe Kitchen Taps perfectly balance quality, technology and design.
These German built faucets are precision built and engineered for Style, Innovation and will last a lifetime. More choice, more comfort and more flexibility, which is why Grohe products are such a pleasure to use.
---
Our Collection of Kitchen Faucets include Single Hole, Touch, Pot Fillers, Bridge, Bar, Drinking Water, Wall-mount, Pull-Out And Pull-down Faucets. These faucets are designed for easy installation. Finishes include Chrome, Stainless Steel, Black, And Brushed Gold.
Our Brands include Waterstone, Grohe, Riobel, Franke, Aquabrass, ROHL, Blanco, Perrin And Rowe, Kohler, Hansgrohe, Delta, Brizo, Moen, NewForm, And KWC.
Bath Emporium has been in the Bath and kitchen industry for over 21 years. We are one of Canada's largest retailers of quality name brand Bath and Kitchen product store, with a huge showroom in Markham, Ontario, Canada. We ship products to all provinces in Canada including Ontario, Alberta, Quebec, New Brunswick, Nova Scotia, Prince Edward Island, Newfoundland and Labrador, Saskatchewan, British Columbia, And Manitoba. We also ship to USA as well.
Cities include Toronto, Markham, Mississauga, Brampton, Calgary, Vancouver, Barrie, Hamilton, Burlington, Sudbury, Kingston, Kitchener, Cambridge, Waterloo, London, Niagara Falls, Windsor, Ottawa, Gatineau, Edmonton, Richmond Hill, Pickering, Vaughan, Stouffville, Newmarket, Oshawa, Fredericton and more.
Should you need a free quote, for a particular kitchen faucet type, finish or have any installation questions, please Contact us or Give us a Call at (905) 944-0060 and we'll be happy to provide you with one.
We look forward to seeing you soon.