Best Toilets Of 2023 Available In Canada
A Wide Range Of Powerful, Clean, Efficient And Smart Toilets
We offer the best selection of Toilets for Sale in Canada. Our collection includes Wall Hung, Back Flow, Neorest, ADA Compliant, Washlets, Toilets Seats, And Smart Toilets. Find a toilet best suited for your needs and space.
It's very important to know exactly what to look for when buying a toilet. As you choose your toilet, you will want to consider a few details. Who will be using it? Anyone who has difficulty in sitting or standing? Some toilets are taller than average to make sitting down and getting up much easier. Is the toilet for a Master, Powder Room, Guest or for kids bathroom?
Want to save space in your bathroom? We strongly suggest to go with a wall hung toilet. They will make a lot easier and simple to clean beneath the bowl while taking up very less space in the bathroom.
Our friendly and knowledgeable staff, will be happy to assist you with any questions you may have about purchasing your next Bathroom Toilet for your project. We put the customer at the center of our design process. Their needs and insights drive the development of delightful, innovative products that help to make every day tasks just a little bit easier.
Whether you're remodeling, renovating your bathroom or just looking for a new toilet, you will be impressed by our huge collection.
These beautiful looking Toilets are made by Toto, Kohler, Icera, Axent, Duravit, Caramora, And American Standard.
We ship these beautiful looking toilets to all provinces in Canada, including Ontario, Alberta, Quebec, New Brunswick, Nova Scotia, Prince Edward Island, Newfoundland and Labrador, Saskatchewan, British Columbia, And Manitoba. We also ship to USA as well.
---
Different Toilet Of Types
Smart Toilets: Smart toilets offer integrated personal cleansing to create a cleanliness that simply cannot be matched by toilet paper.
One of the best benefits of a smart toilet is the convenience they bring. They reduce the need to touch anything and also reduce the chances of transmission of any germs. Open automatically, close and flush after leave.
Wall-hung Toilets: Wall-hung toilets are modern and minimalistic and provide space saving solutions that are very easy to maintain and clean. A wall hung toilet will make it easier and simple to clean beneath the bowl, and its smooth surfaces make it easy to wipe down while taking up less space in the bathroom.
One-piece toilet: These are ideal for modern homes and got a low-profile and an elongated, comfort height seats. They tend to be bit pricy but well worth the price for their luxury experience.
Two-piece Toilet: A two piece toilet is the most common type of toilet in Canada and the USA. If you're on a tight budget, they'll be perfect to go with. The toilet bowl and tank are separate pieces and are attached together with bolts during the installation.
They feature either round or elongated seats and match décor of most bathrooms today.
Neorest: Constantly at work, automated technologies maintain hygienic conditions keeping surfaces clean providing a place that is inviting and very comfortable.
The technology is truly a revolutionary innovation. They Open automatically, close and flush after leave.
---
Here Are The Best Toilets (2023) Available In Canada
TOTO MS604114CEFG UltraMax II Toilet
This sleek, elongated one-piece toilet design features Toto's industry-leading Tornado Flush flushing system, which draws water into the bowl more quickly, and out more forcefully.
Features
CEFIONTECT Glaze prevents debris from sticking to ceramic surfaces, making them easier to clean
Tornado Flush™ flushing system
Computer Designed, Fully Glazed Trapway
Elongated Bowl with SoftClose Seat
Chrome Trip Lever Included
Universal Height
ADA Compliant
12″ Rough-In
---
Icera Muse II One-Piece Toilet
The newly re-designed Icera Muse II is the perfect complement to both modern and transitional bathroom environments with its' slimmer, sleeker profile and compact-elongated bowl. The trapway now includes bolt cover tiles for a fully skirted look – both easy to install and maintain.
The Icera C-6690.01 Muse II One-Piece Toilet features Icera's new Rimless Wash. Two large twin jets at the back of the bowl with an open rim facilitate a powerful flush and better hygiene.
---
Kohler Veil Smart Toilet
If you want the best experience and top of the line smart toilet addition to your bathroom, we highly recommend the Kohler Veil Smart Toilet. This toilet is the best smart toilet available right now and it meets ADA code requirements.
Features
Compact, streamlined one-piece intelligent toilet with integrated personal cleansing.
Elongated bowl offers added room and comfort.
Comfort Height ;feature offers chair-height seating that makes sitting down and standing up easier for most adults.
Tankless design with direct water supply.
Front and rear wash modes provide warm water for cleansing.
Automatic deodorization system.
Heated seat with adjustable temperature settings.
Emergency flush supports up to 100 flushes during power outage with simple touch-button activation.
Dual flush offers a choice of 0.8 or 1.28 gpf (3.0 or 4.8 lpf).
---
ToTo Canada Toilets

Toto is a Japanese brand and has been making Toilets since 1917. Their Toilets are used in many homes, hotels and resorts all around the world not only just in Canada And USA. They're one of the most popular manufacturers of toilets throughout the world.
Toto toilets have a powerful flushing system that combines Tornado Flush, which flows powerfully from two openings with a second stream of water that washes over the entire bowl to get rid of the waste. The Tornado Flush not only cleans more effectively, but it does so quietly using less water.
Toto Toilets are famous for their design, durability and superior technology. At Bath Emporium we carry a large selection of these Toto bathroom fixtures to fit your style and budget. Legendary flushing performance is something that Toto is well known for.
They bring a new world of clean to everyday life, enriching every moment of every day.
Our Best Sellers Of TOTO Toilets
---
Icera Toilets
Since 1995, Icera have established a reputation amongst designers and professionals for combining excellence in design with unmatched performance and quality. Their mission is to improve quality of life through luxury bathroom design, with practical performance and ecological efficiency.
Each and every Icera Toeilt is individually inspected for quality and tested for performance.
They've continuously embraced innovation in design and technology to deliver industry-leading performance toilet fixtures, with matching vanities and suites for a complete, unified bathroom experience. Today, Icera products are widely recognized and consumer-tested.
---
Kohler Canada Toilets
Kohler toilets are very powerful, clean and efficient.
Their toilets combine outstanding function and performance with style and elegance.
Kohler Toilets deliver a complete, powerful flush every time. Using a specialized dynamic flow profile, the engineers optimize water speed and force for each and every toilet.
---
Axent Toilets
Axent award-winning intelligent toilets brings style and class to your bathroom.
Established in 2008, Axent is a leading manufacturer of sanitary technology and a global supplier of shower toilets. AXENT's product portfolio includes leading-edge shower toilets, high-quality sanitary ware, bathroom furniture and bathtubs as well as innovative performance technology for bathroom products.
Their award-winning products are designed to bring style to your bathroom.
The company's key to success is a combination of industry knowledge, in-house expertise and continuous research into new technologies.
Duravit Toilets:
Duravit is known for their innovative solutions and timeless design, clarity and comfort. Choose among some great designs such as 1930 Series, 2nd floor, Architec, Bathroom_Foster, Caro, D-Code, Darling, Dellarco, Duraplus, and much more.
American Standard Toilets:
American Standard Heritage One-Piece Elongated, Two Piece Cadet, Town Square, to American Standard Toilet Collection we have it all.
We also carry American Standard Toilet Reminiscence, American Standard Toilet Pressure Tank and Toilet Antiquity.
---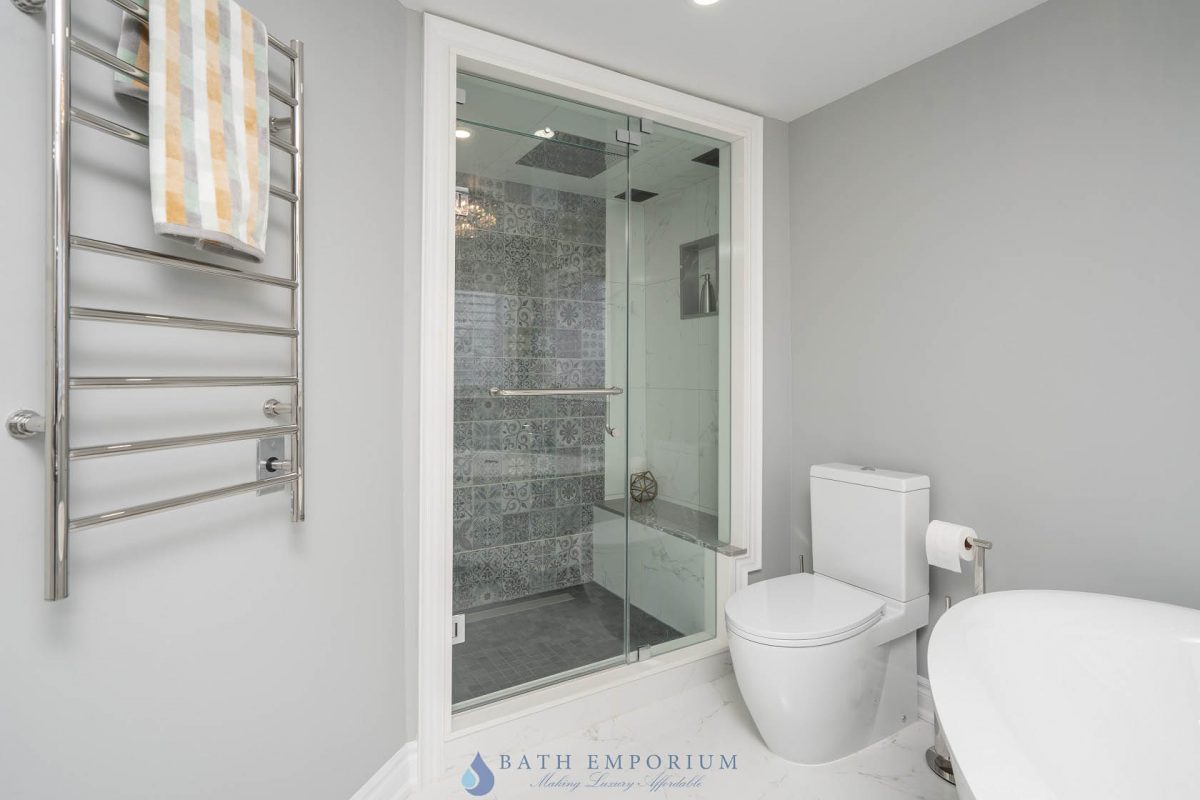 When it comes to choosing the best toilet stores in Toronto, Markham, Richmond Hill, Stouffville, Newmarket, Thornhill, North York, Vaughan, Aurora, Scarborough, Brampton, Mississauga, Etobicoke, Pickering, Ajax, Oshawa, Whitby, Woodbridge, and Vaughan, there is no better place for selection other than Bath Emporium.
Visit our showroom in Toronto (Markham) for Toto, Icera, Kohler, American Standard and Duravit toilets or check-out our online catalog.
Our team can help you with everything from finding the correct items selection to project advice to technical specifications and much more.
You will get the best price on these beautiful Toilets and if you found a better price on the same product from another source, let us know. We will be happy to match a competitive price from another retailer to guarantee you the best value.
We ship our products to all around USA and Canada. Cities include Toronto, Markham, Mississauga, Brampton, Calgary, Vancouver, Montreal, Barrie, Hamilton, Burlington, Sudbury, Kingston, Kitchener, Cambridge, Waterloo, Winnipeg, Quebec City, London, Niagara Falls, Windsor, Ottawa, Gatineau, Victoria, Kitchener, Halifax, Edmonton, Richmond Hill, Pickering, Vaughan, Newmarket, Oshawa, Fredericton and more.
And So If you're looking for the best toilets dealers in Toronto, Ontario, or anywhere in Canada, look no further, call us at 905-944-0060. Our knowledgeable professional staff will assist you every step of the way to help build your dream home or bathroom.