Best Clawfoot Bathtubs In Toronto, Ontario, Canada
Beautiful Looking Clawfoot Bathtubs You'll Love In 2022
We offer the best collection of Clawfoot Bathtubs in Toronto, Ontario, Canada. Breathe life into your bathroom with our wide selection of Clawfoot Tubs and add luxury experience to your bathing life.
Nothing is more iconic than a clawfoot bathtub.
These beautiful looking freestanding tubs are available in a variety of colors, shapes and sizes so even if you have a small bathroom, there is likely a clawfoot tub that will work for your space.
The best clawfoot bathtub is going to differ, depending on your requirement and needs. The best thing about cast iron clawfoot tubs are how well they retain the heat and vey hard it to chip.
We ship to all parts of Canada And USA.
Different Types Of Clawfoot Tubs
Classic
This is the most common clawfoot bathtub. They were made in the millions from 1890 to 1940.
Double ended
Double ended Clawfoot Tubs are very similar to the design of classic. The main difference is the freestanding tub faucet is located in the middle.
Single Slipper
Single slipper bathtubs are shaped like a slipper. They have higher raised edge at one end of the bathtub, providing a comfortable backrest. The other side is shorter and usually stands high.
Double Slipper
Double slipper tubs have a center drain configuration and side-mounting faucet. They can easily accommodate two bathers.
---
Best Clawfoot Tubs Of 2022 Available in Canada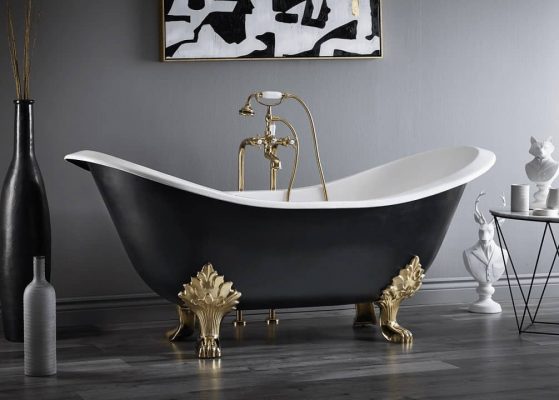 Cheviot Regency Cast Iron Bathtub
The elegant Cheviot Regency Cast Iron Clawfoot Freestanding Bathtub is raised on both ends to provide optimal comfort for two. Imposing lion feet complete to look of Victorian grandeur.
Cheviot Products cast iron bathtubs are handmade in Europe with the finest materials. Fired with a thick coating of AA grade titanium-based enamel for unparalleled hardness and non-porosity, the extremely durable surface is easy to clean and resistant to stains, bacteria and other microbes.
Cast iron also keeps your bath warm for the longest possible time.
---
Victoria And Albert Hampshire Clawfoot Tub
The Cheshire is a quintessentially English Victorian-style roll top bath with clean lines, an elegant silhouette, and ornate ball-and-claw feet.
Made from naturally bright white Volcanic Limestone.
A timeless classic – a deep Victorian double-ended roll-top bathtub featuring a range of ball & claw feet options.
Feet options finishes include Gloss White, White Metal, Polished Chrome, Brushed Nickel, Polished Nickel, And Polished Brass.
The extremely strong yet lightweight material eliminates the need for flooring reinforcement on second floor installations.
---
Victoria Albert Hampshire Clawfoot Tub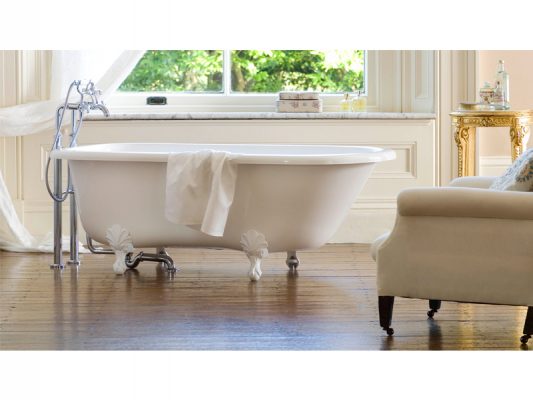 Victoria Albert Hampshire is a classic single-ended roll top Edwardian bath with one angled end for a deep soak. Choose from a wide range of feet finishes including brushed nickel, polished chrome, brass, polished nickel and white.
Made from naturally bright white Volcanic Limestone.
Named for the birthplace of Jane Austen and Charles Dickens, the Hampshire is an English classic, Edwardian style bath with ball-and-claw feet.
The Hampshire is a classic tub for the most discerning bather. This single-ended roll top reclines at the perfect angle for maximum comfort.
---
Antique Clawfoot bathtubs
When it comes to the best selection of Antique Clawfoot bathtubs in the Toronto area, we at Bath Emporium would be considered the primary source. We carry a big selection of Antique Bathtubs in our huge showroom in Toronto.
Our selection includes Acrylic and Cast Iron Free standing Clawfoot Antique Bathtubs. Our friendly and knowledgeable staff would be more than happy to answer any questions you might have regarding these Clawfoot Free Standing bath tubs.
Visit our huge showroom in Toronto for all your clawfoot free standing bath tub needs. We also serve the communities of Toronto, Richmond Hill, Woodbridge, Thornhill, Stouffville, Uxbridge, Aurora, Newmarket, Scarborough, Pickering, Ajax, Whitby, Brampton, Mississauga and Etobicoke
Through our Online Catalog, you can place your order over the phone for shipping to all Provinces of Canada and states in USA.
---
Our Best Clawfoot Bathtubs Sellers
---
Bath Emporium is your source for clawfoot Bathtubs and freestanding bathtubs, with a huge selection to choose from. Choose among antique clawfoot and freestanding bath tubs to acrylic claw feet and freestanding tubs.
Brand name clawfoot freestanding bath tubs also include Cheviot Products, Victoria And Albert, Maax, Oceania, Kohler, American Standard, Alcove and Neptune.
Expert team:
Our professional staff would be happy to assist you in making sure you buy the right Clawfoot Bathtub to suite your dream bathroom at the right price. With over 20 years of experience, our team can assist you with everything from finding the correct item selection to project advice to technical specifications and much more.
You'll get the best price:
If you found a better price on the same product from another source, let us know. We will be happy to match a competitive price from another retailer to guarantee you the best value.
We also ship to all parts of Canada and the USA. If you can't find what you're looking for, call Bath Emporium at (905)-944-0060 or email us at info@bathemp.ca. We can special order the item not listed on our website and help you decide which clawfoot tub style and installation is right for your bathroom.