Graff Bathroom And Shower Faucets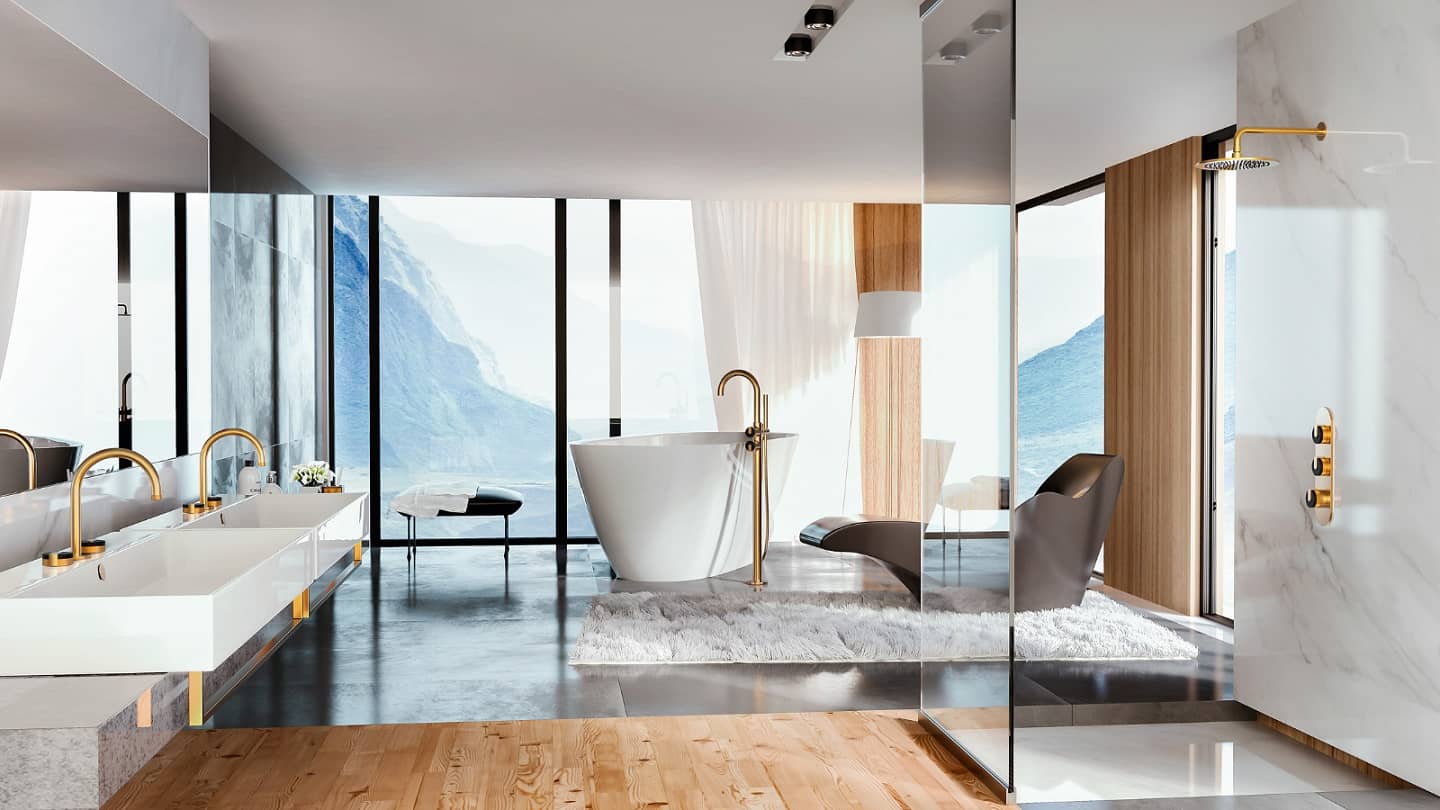 ART of BATH
We carry complete collection Graff Faucets And Shower Kits in Toronto, Ontario, Canada.
Graff has successfully guided the passionate journey of ART of BATH, merging classical artworks with modern bathroom designs for a visually enticing experience.
Headquartered in Milwaukee, Wisconsin, USA, and with locations throughout Europe, Graff is recognized globally for it's trend setting products and a unique vision.
Graff offers a wide range of transitional, contemporary, and traditional styling.
Utilizing the latest manufacturing technology and a tradition of old-world craftsmanship, their commitment to creating cutting edge, premium-quality fixtures is evident in each and every product.
Our Contemporary bathroom collection includes Ametis, Aqua-Sense, Harley, Immersion, Incanto, Luna, M.E, MOD+, Phase, Qubic, Sade, Sento, Solar, Targa, And Terra. Traditional collection includes Bali, Camden, Canterbury, Finezza, Lauren, Topaz, And Vintage.
Where Are Graff Faucets Made?
All Graff Faucets are manufactured in the USA and Europe. GRAFF is a true, vertically-integrated manufacturer, unlike many other faucet companies. They have their own ISO 9001 certified manufacturing facilities for a high standard of quality.
Graff MOD+ Faucets Collection
Endless Versatility And Possibilities
The Graff MOD+ Collection is a gorgeous collection. Created by Graff's G+ Design Studio, MOD+ is their first modular collection where you can select a different finish for each part of the faucet.
MOD+ offers boundless options to create a personalized faucet, making every design idea possible.
MOD+ collection offers handle covers in three variations of pure marble originating from the heart of Italy's Tuscany region along with seventeen stunning brass finishes for endless versatility and customizable combinations.
The handle covers, equipped with thoughtfully manufactured brass bases and knurled detailing, may be mixed to create a cohesive focal point for the bath.
The continuous design between the collection's faucets, tub fillers, and shower components exude European elegance.
Graff Harley Collection
The design of the Harley contemporary collection was derived from the stylings of classic motorcycles, fusing an industrial aesthetic with details nostalgic of the all-American icons.
With a modest industrial look, reflected in the tubular, softly squared spout, Harley finds a more refined style in the distinctive circular handle.
Conceptualized by Graff's G+Design Studio, the faucet's noteworthy handle, recalling a car steering wheel, offers a unique eclecticism and adaptability to contemporary and technical environments.
Sade Collection
Dignified And Graceful
Gleaming and elegant, Sade stands in the bathroom as an architectural element with a defined contemporary design.
With a curved flat spout, its water flow resembles a cascading water fall; the handles recall the spout's inclination, giving the product an extra hint of charm.
---
Available finishes
Graff products are manufactured with the highest quality materials and the most advanced technologies available on the market.
As a vertically integrated manufacturer, they have full control over the production process, including the final finishing stage, to consistently deliver exceptional products.
Their faucets are available in following finishes: Polished Chrome, Polished Nickel, Brushed Nickel, Architectural Black, White, Matte Black, Steelnox and Olive Bronze, 24K Gold and 24K Brushed Gold, Gunmetal, Gunmetal Distressed, Unfinished Brass, Unfinished Brushed Brass, Polished Brass PVD, Brushed Brass PVD, Onyx PVD, Brushed Onyx PVD, OR'osa PVD, And Brushed OR'osa PVD.
About Graff
Graff is truly a vertically-integrated manufacturer. With each product being engineered, manufactured and inspected in-house, the company holds total control of every step in the manufacturing process.
Their products are quickly brought to market and deliver the highest levels of form and function. All products are then painstakingly inspected by hand to insure the highest standard of excellence. When a Graff product enters your home, it is guaranteed to exceed your expectations.
Internationally recognized as an avant-garde manufacturer of exciting, trend-setting bathroom and kitchen fixtures, Graff has built its reputation as an interpreter and protagonist of modern lifestyle, bringing creativity and inspiration into many homes, and as a company, being keenly aware of human and environmental issues and values.
Why Buy Graff Faucets?
Adjoining national park, Graff embraces being actively green, protecting the environment by implementing ISO 14001, and meeting strict EMS and conservation standards. Graff is green all the way.
Unique design
Full range of products in each collection
Superior finishes
Undisputable quality supported by a truly vertically-integrated supply chain
Respect and improvement of worldwide environmental and engineering standards
Competitive prices
Reliable service
---
And so if you're looking for Graff Faucets, shower systems, plumbing fixtures, parts, or have any questions about the Prices call us at (905)944-0060 or email us at info@bathemp.ca or simply stop by Bath emporium Showroom near Toronto, Ontario, Canada at any time and we would be glad to help you.
Shipping is available to all parts of Canada And USA.
Visit our showroom at anytime or Book an appointment to see our huge collection of bathroom faucets, freestanding bathtubs, shower kits, shower doors, sinks, kitchen faucets, kitchen appliances and more, we're truly one stop shop for all your bathroom and kitchen purchases.
---
Our Best Sellers Of Graff Faucets in Canada