Victoria And Albert Hampshire Classic Single Ended Bathtub
The Victoria And Albert Hampshire is a classic Edwardian tub for the most discerning bather. This single ended roll top reclines at the perfect angle for maximum comfort possible.
The Hampshire is available in Englishcast White, Matte White, Gloss Black, Anthracite, Light Gray, Matte Black, And Stone Gray Finishes. The freestanding tub is also available in spectrum of 194 RAL colors, in either gloss or matte finishes.
With the addition of a range of taps and accessories you can create a totally coordinated bathroom.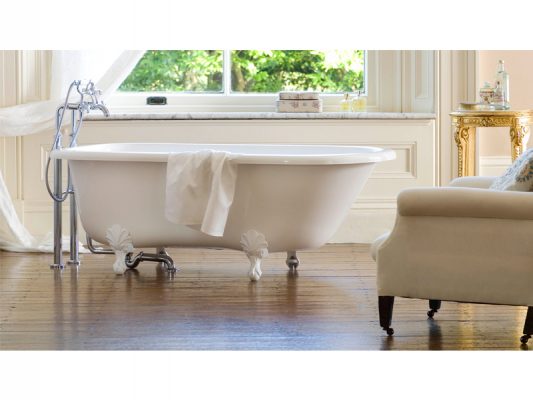 About Victoria And Albert Hampshire Classic Bathtub And Features
• Classic single ended bath
• Choice of bath feet available
• Harder and more durable than acrylic
• 25 year guarantee
• Made from ENGLISHCAST
• One piece casting of Volcanic Limestone and resin
• Exterior can be painted
• Available in six standard paint finishes, new RAL colors in gloss or matte finishes
• Easy clean high gloss finish
General Specification:
Height: 24"
Width: 30 1/2"
Depth: 18 7/8″
Length: 67 1/8"
Weight Empty: 139 lbs
And so if you're looking for a quality bathtub at a affordable price, consider Victoria And Albert Hampshire freestanding bathtub. Let this classic bathtub add class to your home.
Our other collection of Victoria And Albert Freestanding Bathtubs include Barcelona, Barcelona 2, Pescadero, Ravello, Napoli, Amalfi, Vetralla, Terrassa, Amiata, Ios, York, Richmond, Shropshire, Toulouse, and Ionian. we also carry basins and bath accessories.
If you found a better price from another source, let us know. We will match a competitive price from another retailer to guarantee you the best value.
The Hampshire freestanding bathtub is on display at our showroom in Markham, Ontario, Canada. We ship to all provinces of Canada and the USA. Please Feel free to Call us at (905) 944-0060 if you have any questions.