Graff G-11554 MOD+ Floor-Mounted Tub Filler
Floor-mount installation
Aerated spout flow rate ~7 gpm @ 45 psi
Handshower flow rate ≤1.5 max gpm
8-11/16" spout reach
42-13/16"- 45-15/16" approximate height
Includes handshower with 59" spiral flexible hose (PVD finishes use 59" flex hose)
Optional in-line pressure balancing valve
Unlimited Customization
Shipping is Available to all parts Canada And USA
Graff G-11554 MOD+ Floor-Mounted Tub Filler
Floor-mount installation
Aerated spout flow rate ~7 gpm @ 45 psi
Handshower flow rate ≤1.5 max gpm
8-11/16" spout reach
42-13/16"- 45-15/16" approximate height
Includes handshower with 59" spiral flexible hose (PVD finishes use 59" flex hose)
Optional in-line pressure balancing valve
Available Finishes
Polished Chrome
Polished Nickel
Polished Brass PVD
Gunmetal
Matte Black
24K Polished Gold
24K Brushed Gold
Brushed Brass PVD
Architectural Black™
Brushed Nickel
Brushed Onyx PVD®
Brushed OR'osa PVD®
Olive Bronze
Onyx PVD®
OR'osa PVD®
Unfinished Brass
Unfinished Brushed Brass
Vintage Brushed Brass
Architectural White
Graff MOD+ Collection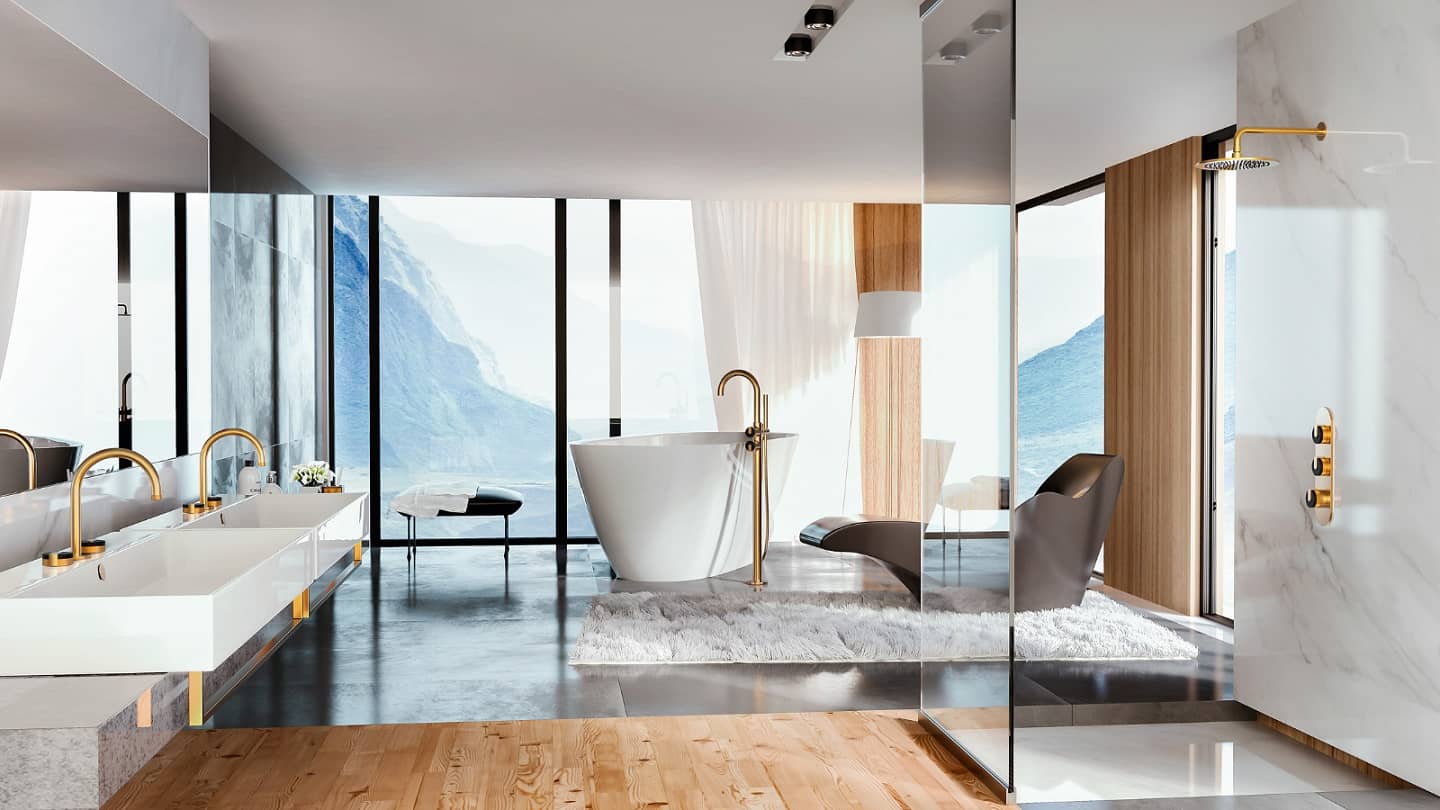 Created by GRAFF's G+ Design Studio, MOD+ is GRAFF's first modular collection where you can select a different finish for each part of the faucet. MOD+ offers boundless options to create a personalized faucet, making every design idea possible.
Graff MOD+ Collection offers handle covers in three variations of pure marble originating from the heart of Italy's Tuscany region along with seventeen stunning brass finishes for endless versatility and customizable combinations.
The handle covers, equipped with thoughtfully manufactured brass bases and knurled detailing, may be mixed to create a cohesive focal point for the bath.
Stark elegant contrasts are drawn between the brass finishes, marble handles, and a clip on the side of each handle. This clip creates exemplary movement and an additional opportunity for customization.
The continuous design between the collection's faucets, tub fillers, and shower components exude European elegance.
---
Buy Graff G-11554 MOD+ Floor-Mounted Tub Filler from Bath Emporium. We carry complete collection of Graff Faucets And Shower Kits.
We serve customers all around the GTA, including the residents of Toronto, Markham, Stouffville, Thornhill, Richmond Hill, Newmarket, North York, Maple, Concord, Woodbridge, Vaughan, Mississauga, Etobicoke, Brampton, Barrie, Scarborough, Pickering, Ajax, Whitby, And Oshawa. Shipping is available to all parts of Canada and the USA.
Headquartered in Milwaukee, Wisconsin, USA, with locations throughout Europe, GRAFF is globally recognized for its trend-setting products and unique vision.
Internationally recognized as an avant-garde manufacturer of exciting, trend-setting bathroom and kitchen fixtures, GRAFF has built its reputation as an interpreter and protagonist of modern lifestyles, bringing creativity and inspiration into many homes, and as a company, being keenly aware of human and environmental issues and values.
And so, if you are looking for quality tub filler at affordable price consider G-11554 MOD+ Tub Filler by Graff.
Should you need a free quote, for a particular style and size, please Contact Us or Give us a Call at (905) 944-0060 and we'll be happy to provide you with one.
| | |
| --- | --- |
| Faucet Brand | Graff |
| Faucet Finishes | White, Black, Brushed Gold, Brushed Nickel, Matte Black, Polished Chrome, Polished Nickel |
| Faucet Type | Freestanding Bath Faucets |
Related products