Riobel Canada Bathroom And Kitchen Faucets
Inspired Design Meets Brilliant Engineering
Riobel Bathroom and Kitchen Faucets are part of the collection on display at Bath Emporium in Markham, Ontario, Canada. Riobel products are very unique and stylish, easy to install and come with a limited lifetime warranty on chrome finishes, all other finishes are guaranteed for one year warranty. Riobel equips all its dual-handle lavatory and bathtub faucets with German ceramic cartridges which leads to the durability and optimum performance.
Based in Montreal, Canada Riobel was born out of a vision of innovation and contemporary style for faucets, shower systems and accessories. They take an industry leading and progress approach to design it's faucets. They understand the enthusiasm that surrounds home maintenance and renovation projects. Their mission is to provide the best selection of bathroom faucets, shower systems and accessories.
Riobel faucets have been designed for easy installation. Mechanical parts are easily accessible from above the counter, making maintenance and cleaning chores much more straightforward. All of their products are durable and meant for heavy use and they will also last for a very long time.
Modern is more than a style, it's a state of mind—a desire for order, clean design lines, and balanced proportions. Riobel faucets and fixtures embrace modernity in all its forms, perfect for a purist who loves minimalism, or one who favors softer, rounder accents.
Find geometric shapes, arcs and angles that combine with engineering brilliance to create the utmost in form and function.
We are Authorized Dealer And Distributor of Riobel Bathroom, Kitchens Faucets and shower kits.
Riobel faucets and fixtures are designed and engineered right here in Quebec, Canada and combine advanced technologies with brilliant style, form, and function.
---
Riobel 2-way And 3-Way Shower Kits And Bath Components
Our line of Riobel shower solutions include Thermostatic Shower Systems, Hand Rails, Shower Heads And Arms, Temperature Control Shower System, And accessories.
The shower kits and shower systems have been designed for easy installation.
Riobel shower and bath components create the ultimate spa experience. From luxurious body sprays to multi-function handshowers and hand shower holders, slide bars, shower arms and risers, they have a full complement of components.
Each piece is masterfully crafted to coordinate with primary showerheads and bath fillers, regardless of size or shape.
These beautiful shower kits are available in Chrome, Brushed Nickel, Polished Nickel, Black, Brushed Chrome, And Brushed Gold.
---
Riobel Kitchen Faucets With Spray
Brilliant engineering and innovative design come together in faucets, fixtures, and accessories, from the technical advances of our retractable hand spray to contemporary classic and modern styles, creating the perfect accent for kitchens of all kinds.
A wide variety of configurations are available, including pull-down faucets with unique Boomerang retraction technology, pull-out faucets for extended reach, coordinating bar and food prep faucets, and bridge kitchen faucets with dual-spray functionality.
We carry the Azure, Mythic, Solstice, Ludik, Trattoria, Mythic, Bistro, Cayo, And Edge collection kitchen faucets.
Riobel kitchen faucets are available in Chrome, Black, Brushed Gold, And Stainless Steel.
Their new collection of modern kitchen faucets come with an ingenious Boomerang pull-down spray system, which allows the sprayer to return to its original position quickly and effortlessly.
The hose is made of braided nylon, which is a silent and durable material, and the spray has an integrated swivel joint for easy handling to rinse Vegetables, wash the sink and also fill a pan or a pot with water.
The unique features offered in each kitchen faucet serve a very specific purpose, to simplify the homeowner's daily activities, both as meals are prepared and ultimately as dishes are cleaned afterwards.
Flexible spouts, retractable hand sprays and desirable finishes are just a few of the reasons why their faucets stand out in the kitchen space.
We also carry matching kitchen accessories.
Riobel kitchen faucets feature brilliant engineering along with high design.
---
We offer a wide selection of Riobel Bathroom Faucets, Kitchen Faucets, and Bar/Prep Faucets with finishes including Polished Chrome, Black, Brushed Nickel, Brushed Bronze, Brushed Chrome, Polished Nickel, And Brushed Gold. Whether you are looking for a Single Hole Bathroom Faucet, a Kitchen Faucet or Shower System, Bath Emporium carries it. Our collection includes shower kits, faucets, accessories, and momenti tub fillers.
Our other collection of Riobel Faucets includes Edge, Zendo, Altitude, Parabola, Mizo, Optimum, Equinox, Pro, Antico, Ciclo, Classic, CS, GS, ODE, Paradox, Pallace, Premium, Riu, Eiffel, Salomé, Romance, Silhouette, And Riobel pro. We carry Riobel Accessories as well. Shower solutions include pressure Balance Valves, Thermostatic Shower System, Hand Rails, Cartridges, Shower Heads and Temperature Control Shower System.
Riobel Kitchen and Bathroom Faucets should be a sure consideration for your next home improvement project as you would be pleasantly impressed at its quality and price.
Our huge showroom has on display great selection of Riobel Bathroom Faucets, Shower Kits, Shower Heads, Wall mount and floor Tub Fillers, And Kitchen Faucets With Spray.
What sets us apart from other bathroom supply stores is our outstanding customer service and combined with quality products, competitive prices and professionally trained staff who regularly train with manufactures to stay up to date on new products, prices, packages and promotions.
Our showroom is accessible through all major highways thus making it a short drive from cities of Toronto, Markham, Richmond Hill, Vaughan, North York, Woodbridge, Concord, Thornhill, Unionville, Stouffville, Uxbridge, Aurora, Newmarket, Scarborough, Oshawa, Pickering, Ajax, Whitby, Brampton, Mississauga and Etobicoke.
And so, if you live in one of these great cities and looking for a Riobel Distributor or looking for a Riobel bathroom or Kitchen faucet, replacement parts, shower kits, or shower head, drop-by to see the different types and styles we carry. We ship Riobel products to all parts of Canada and the USA.
---
Our Best Sellers Of Riobel Bathroom And Kitchen Faucets & Shower Kits Include:
---
Why Buy Riobel Bathroom And Kitchen Faucets?
Distinctive Features
Quality And Durability
Riobel provides products with superior quality, backed by a limited lifetime warranty.
Ease Of Installation
Riobel Faucets are designed for easy installation, access and maintenance.
Time Tested Finishes
All their products in brushed nickel, polished nickel, brushed gold and stainless steel are treated with a high-tech coating (PVD) to protect them from tarnishing, discoloration, scratching and corrosion.
German Ceramic Cartridges
Riobel equips all their dual-handle bathroom and tub faucets with German ceramic cartridges to ensure durability and optimum performance.
Warranty
Riobel offers a limited lifetime warranty on their Chrome, Brushed Nickel, Polished Nickel, Brushed Gold, Brushed Chrome, Black And Stainless Steel finishes and parts., starting from the date of purchase and against any manufacturing defects.
Other finishes are protected by a one year limited warranty.
Certifications
Riobel products are certified by and are in compliance with, the following standards: ASME A112.18.1, CSA B125.1, CMR 248, ASSE1016, NFS 61 and NFS 372. These standards are listed with IAPMO.
Ecological Products
At Riobel, the environment is very important to them. That's why they have equipped most of their lavatory faucets with efficient aerators to reduce their flow to 4.5 liters (1.2 Gallons) per minute.
In addition, they're working to develop environment friendly packaging for their products.
---
About Us
Bath Emporium has been in the Bath industry for over 24 years. We are one of Canada's largest retailers of quality name brand Bath and Kitchen product store, with a huge showroom in Markham, Ontario.
Instead of searching out each piece on different stores or websites, come visit us and find everything that you need in one place.
We truly are a one stop shop store for all your bathroom and kitchen needs including design and installation services. If you have any questions about Riobel Faucets Price List please feel free to call Bath Emporium at (905)-944-0060 or email us at info@bathemp.ca to learn more about our Riobel prices and promotion.
---
Riobel Bathroom Faucets
Riobel Kitchen Faucets
Riobel Shower Collection
---
About Riobel Canada
Originating in Quebec, Canada, Riobel Combines European panache with North American flair for a confident and creative style with effortless edge and spirited simplicity. Every detail is thoughtfully considered, from the initial inspiration to 3D modeling through their engineering process.
Symmetry is key to thoughtful creations with geometric shapes architectural angles, rounded arcs and inspired finishes, all of which are not just artistic choices, but made to enhance performance as well.
Design and engineering work hand in hand, and come together brilliantly through imagination, innovation, and ingenuity.
The latest trends, technologies, and patented systems are enabled by beautiful design, and vice versa.
With award-winning collections that will be as true tomorrow as they are today, and the most advanced performance, Riobel Canada is luxury to be lived with.
---
What Are The Riobel Advantage Selections?
Five Distinctive collections that uphold Riobel's reputation and pledge to provide contemporary, functional, and high quality faucets.
Whether you're building your first house or renovating your bathroom or kitchen, you'll find that Riobel's Advantage collections provide faucets with the best features at the best value.
---
Riobel Bathroom Collections
The Ciclo Collection – Simplicity at its best
Modernity has a new name: Ciclo, a collection designed for bathrooms with contemporary panache. Its technical brilliance brings together shape and substance, with a single cylinder that holds the cartridge, seat and manifold, for an innovative, streamlined look.
The Ciclo faucets collection has won the Grand Prize for Design in the Industrial Design, Bathroom Product category, the Good Design Award from The Chicago Athenaeum: Museum of Architecture and Design and The European Centre for Architecture Art Design and Urban Studies.
The Classic Collection – Juxtaposing modernity and tradition with style
The Classic Collection showcases a quintessential and timeless design, a striking showpiece for modern, traditional and transitional bathrooms.
A rounded, full spout with substance and style, and handles of iconic simplicity give it grace and grandeur. Superb engineering ensures that functionality matches form, and durability and performance are equal to the Collection's classic beauty.
The Edge Collection – Exceptional design with distinctive flair.
The main distinction of the Edge Collection is a unique design element: a subtle trumpet-shaped tip and base, suggestive of the opening petals of a blossoming flower. Taking a contemporary shape and giving it a slight twist makes this Collection a versatile choice for modern, transitional, and even more classically-styled bathrooms.
The Riobel Equinox Collection – The elegance of modern geometry
Softened right angles reign in the Equinox Collection, creating streamlined drama for the most modern of environments. A fusion of engineering functionality and striking design creates a seamless flow with contemporary sophistication.
The various finishes available highlight the collection's unique shape and style, and bring an impressionistic aesthetic to the bathroom.
The Fresk Collection – A fresh angle on luxury
The Fresk Collection brings a strong contemporary point of view to the bathroom. This is what modern design means: clean lines, precise angles and a straightforward statement of minimalist simplicity. Yet, its streamlined shape and purity make it equally perfect in a transitional setting. Fresk bathroom faucets collection shines in various finishes and is engineered to provide a high level of performance for lasting beauty.
The GS Collection – Artfully modern, practically brilliant
Geometry with a harmonious balance of lines creates a modern aesthetic for bathrooms with a contemporary feel. The GS Collection is meant for both minimalist décor and transitional styles, as its organic shape complements both beautifully. Engineered to perfection with the latest state-of-the-art technology, and designed for function and beauty, the GS Collection gives any bathroom simply stunning style.
The Kubik Collection – The perfect proportions of modern design
The linear form of the Kubik Collection makes a strong impression with block shapes of elegant proportions. It is a truly modern sculpture for the bathroom, made to stand out, especially in minimalist and contemporary décor.
Expert engineering ensures precision performance and a variety of finish options allow you to make your own statement.
The Momenti Collection – Customize your style and create your own moments
What's better than a collection with an inspired sensibility and impactful style? It's one you can customize yourself. Be creative with shape, curve, and angle, select a round or square spout, cross or lever handles.
Be original with a multitude of different finishes to choose from and the ability to mix and match finishes, which is every designer's dream. Durable and beautiful, the elements of the Riobel Momenti collection are designed to work together to create a showcase for modern, classic, even industrial décors.
ODE Collection – Sculptural geometry
The balance of profile, proportion, and performance: this is the equation that defines the Ode Collection. The geometric meeting of circle and square is calculated to equal measurements, for a design with the look of modernist art.
A round base merges with a rectangular spout, for a seamless form. Light and shadow on curve and line create subtle reflections. The whole is juxtaposed by the angled handle. Form mirrors function, as each element has a purpose to enhance performance as well as elegance.
The Pallace Collection – Design with a sculptural sensibility
Curve and line come together in an outstanding example of modern sculpture. The Pallace Collection is truly original, a combination of substance and style that commands attention.
Brilliantly engineered for outstanding performance, this is a collection where form and function marry with superb results. Choose from cross or lever handles to add character to your bathroom.
The Parabola Collection – The true jewel of the bathroom
The Parabola collection draws inspiration from a parabolic surface, the only surface that allows focusing of multiple elements into a single point. The result is an innovative yet simple aesthetic that highlights the collections geometry through elegant curves, creating a unique profile and bathroom focal point that maximizes the reflection of light in the surrounding environment.
The Riobel Paradox Collection – Minimalist modernity with a unique style
When curves meet straight lines it leads to the emergence of a unique paradox of form and function. Epitomizing this combination of forms, Paradox exudes contemporary style.
Its simplicity belies its brilliance, with performance engineered to the utmost caliber and its look the perfect mix of sophistication and balance.
The Reflet Collection Reflects the movement of water
The simple yet distinctive shape of the Reflet Collection is intended to reflect the contrast of water. The design encapsulates a soft wavy surface embedded within a rigid frame, balancing the elegance and the power of water in one single Collection.
This duality is enhanced through the combination of brushed and polished surfaces that conjure the myriad textures created by water as it sculpts, polishes and erodes the materials around it.
The Riu Collection – Minimalist subtlety with maximum affect
The simple beauty of the Riobel Riu Collection fits urban industrial, transitional and minimalist spaces with subtlety and grace. You can personalize the look to fit your décor with a cross or lever handle and one of several finishes.
Behind Riu's sleek form and either rounded, swan-like spout or its square, more industrial look is functionality designed with engineering genius, creating a stand-out piece that performs with style.
The Salomé Series – The wave of the future is now
Shaped like the curl of an ocean wave, and releasing a soft cascade of water, the singular style of the Salomé Collection is a standout piece any bathroom could be proud of. Its simplicity of form transcends time periods, making it a natural choice for the most contemporary of spaces, for transitional settings and even traditional décor.
The Sylla Collection – Beauty in symmetry
Rounded curves and defined lines work together in harmony in the exquisite Sylla Collection. The collection is decorative in its symmetry and pure in its simplicity, making it perfect for contemporary bathrooms.
A passion for performance and perfection stands behind its statuesque form while superb engineering delivers durable and reliable functionality. The Sylla Collection shines with eye-catching impact and appeal.
The Venty Collection – All the right lines
Venty is an iconic modern shape with its sleek and streamlined form. The subtle tilt of the neck and the straight line of the handle demonstrate its contemporary beauty. Sophisticated in its simplicity, with a classic finish, Venty brings nuanced allure to minimalist and transitional bathrooms alike.
The Zendo Collection – A cascade of imaginative design
Invite a waterfall into your bathroom with the boldly designed Zendo. Strong lines and angles come together in a fresh, contemporary style. Inventive functionality creates a graceful, flowing cascade of water for a singular, sensate experience of luxury. Made to adorn modern, eclectic and transitional bathrooms.
---
Riobel Kitchen Faucets Collection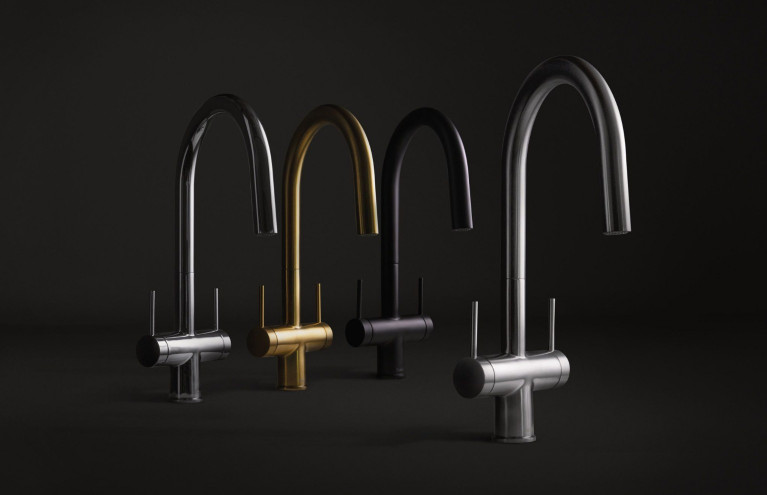 Riobel Azure Kitchen Faucets Collection
Like the arc of an ocean wave, the Riobel Azure Collection captures a sense of motion and artistry. A modern silhouette with clean lines and minimalist handles, it's the perfect meeting of form and function.
The collection is equipped with our Boomerang retractable pull-down hand spray which returns to its original position quickly and easily and features an integrated swivel, adding true flexibility and making kitchen chores effortless. The Azure Collection will flatter any kitchen.
The Ludik Collection – Where inspiration meets innovation
While the rounded form of the Ludik design has a modern sensibility, its soft lines and angularity make it at home in transitional and eclectic kitchens as well. It's a striking sculptural piece that does more than look beautiful, it functions beautifully, too.
The Boomerang™ 2-jet retractable hand spray with integrated swivel not only slips back into position in a snap, it makes washing up a breeze. Technology and design come together to create an exquisite experience for the kitchen.
The Trattoria Collection – The classic beauty
This unique collection is designed for the heart of your home where food is celebrated and design is relished. The Trattoria balances aesthetics and practicality beautifully. Customize the look by choosing from either the rounded spout or the more angular U-spout.
The Trattoria kitchen faucets collection also features the industry revolutionizing Boomerang technology with 2-jet spray and integrated swivel, which makes clean-up a breeze for the busy chef.
Edge Collection – Exceptional design with distinctive flair
The edge collection for the kitchen takes a modern aesthetic and gives it a unique edge. A subtle trumpet-shaped tip and base, like the blooming of a flower, is what makes it so distinctive. The same design element is echoed in the handles as well. The integrated swivel allows for effortless washing of dishes or vegetables, making it a welcome addition to any kitchen.
The Cayo Collection – The essence of simplicity
When it comes to design, simplicity can make the strongest statement of all. The Cayo Collection focuses on minimalist nuance to create a strong presence. Cayo includes smart advances, like the two-jet pull-out spray with integrated swivel to bring brilliance to any modern or transitional style kitchen.
The Bistro Collection – The true beauty of industrial design
With its tall swan-like neck, the Bistro Collection reaches new heights in design. It's an urban industrial showpiece with a streamlined, minimalist style favoured by many professional chefs. Its performance is on the pro level, with a flexible spout and 2-jet spray that make prep and clean up easy.
Advanced engineering and striking design fuse to create a collection that responds with excellence and garners the attention it deserves.
The Mythic Collection – The true beauty of industrial design
With its tall swan-like neck, the Bistro Collection reaches new heights in design. It's an urban industrial showpiece with a streamlined, minimalist style favoured by many professional chefs.
Its performance is on the pro level, with a flexible spout and 2-jet spray that make prep and clean up easy. Advanced engineering and striking design fuse to create a collection that responds with excellence and garners the attention it deserves.
---
Riobel Shower Trim, Valves and Volume Controls
Riobel brings the spa experience home with an exclusive and complete shower offering. Showerheads that deliver a decadent deluge. Hand showers and body sprays immerse the body in soothing rejuvenation. Customers can select designs to achieve the aesthetics and performance they desire, from sleek modern lines to traditional designs, and everything in between.
Riobel offers a variety of recommended shower packages, including body sprays, rain showers, coordinating shower arms, valve trims and valve options to transform your shower into a spa. The heart of the product is the valve and the inspiration behind each of their product is the quest to provide an unparalleled experience through ease of installation and superior functionality. From the patented, industry-leading RioWise™ technology to the easy-to-install tub fillers and lavatory faucets, they continues to launch innovative and brilliant products for your home that reflect your personality. Designed by a Plumber, for a Plumber.