Riobel Equinox Shower Kits And Faucets Collection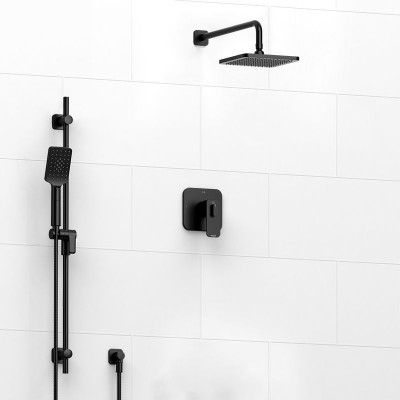 We carry complete collection of Riobel Equinox Shower Kits And Faucets Collection. The finishes for these faucets and shower kits include Chrome, Black, Polished Chrome, Brushed Gold, Brushed Nickel, Brushed Bronze, Brushed Chrome, Polished Nickel.
Our other collection of Riobel Faucets includes Zendo, Altitude, Mizo, Optimum, Edge, Equinox, Pro, Antico, Classic, CS, Eiffel, Genius, GS, Paradox, Momenti, Pallace, Premium, Riu, Romance, Salomé And Silhouette. We also carry Riobel Accessories.
The Riobel Equinox Shower Kits is a very popular collection from Riobel. At Riobel, they understand the enthusiasm that surrounds home maintenance and renovation projects. Riobel's mission is to provide the best selection of kitchen and bathroom faucets, shower systems and accessories. Riobel products are made to match the style of your home, perfect for kitchens and bathrooms alike.
---
Our Best Sellers Of Equinox Shower Kits Includes
Riobel equips all its dual-handle lavatory and bathtub faucets with German ceramic cartridges which leads to the durability and optimum performance.
Riobel faucets have been designed for easy installation. Mechanical parts are easily accessible from above the counter, making maintenance and cleaning chores much more straightforward.
Bath Emporium serves the communities of Toronto, Markham, Richmond Hill, Thornhill, North York, Mississauga, Brampton, Hamilton, Scarborough, Ajax, Whitby, Pickering, Stouffville, Newmarket and surrounding areas.
You'll get the best prices on Riobel Bathroom and Kitchen faucets
If you found a better price on the same product from another source, let us know. We will be happy to match a competitive price from another retailer to guarantee you the best value.
Why Buy Riobel Equinox Shower Kits From Us?
Here are a few reasons as to why you should consider shopping at Bath Emporium if you are renovating, redesigning, newly building your bathroom or kitchen.
Huge Selection of brand named products
Friendly and knowledgeable staff
Competitive pricing
Massive showroom with displays
Over 20 years experience
We have our own delivery service, so you can get your order fast and safely.
Drop by our showroom in Toronto (Markham) and see for yourself the different Bathroom and Kitchen Faucets that are on display. As always, our courteous and knowledgeable staff would be happy to answer any questions you may have. We also carry Riobel Bathroom and Kitchen Faucets.
We ship to all across Canada and the USA. If you unable to find the product you're looking for, call Bath Emporium at (905)944-0060 or email us at info@bathemp.ca.