Best Wall Hung Toilets In Canada
Clean, Space Saving Toilets With Sleek Design
If you're looking to keep your bathroom clean and save space, we can help. A wall hung toilet will make it easier and simple to clean beneath the bowl, and its smooth surfaces make it easy to wipe down. We offer the best selection of Wall Hung Toilets In Canada.
Updating your bathroom can be one of the easiest and fastest ways to modernize your home.
Wall-hung toilets are modern and minimalistic and provide space saving solutions that are very easy to maintain and clean.
When it comes to wall hung toilets, Duravit, ToTo, Philippe Starck, Kohler, Gerberit Tessera wall hung toilet are probably what comes to mind.
Our collection of wall hung toilets provide space saving solutions that are easy to clean and maintain.
They will make it easier and simple to clean beneath the bowl while taking up very less space in the bathroom.
We serve customers all around Canada, Including the provinces of Ontario, Quebec, Alberta, New Brunswick, Newfoundland and Labrador, Nova Scotia, Prince Edward Island, Saskatchewan, British Columbia, And Manitoba.
Cities include Toronto, Markham, Richmond Hill, Woodbridge, Thornhill, Stouffville, Uxbridge, Aurora, Newmarket, Scarborough, Pickering, Ajax, Whitby, Brampton, Mississauga Etobicoke, Barrie, Hamilton, Burlington, Sudbury, Kingston, Kitchener, Cambridge, Waterloo, London, St. Catharines, Niagara Falls, Windsor, Ottawa, Gatineau, Calgary, Vancouver, Edmonton, Fredericton and more.
---
The Best Wall Hung Toilets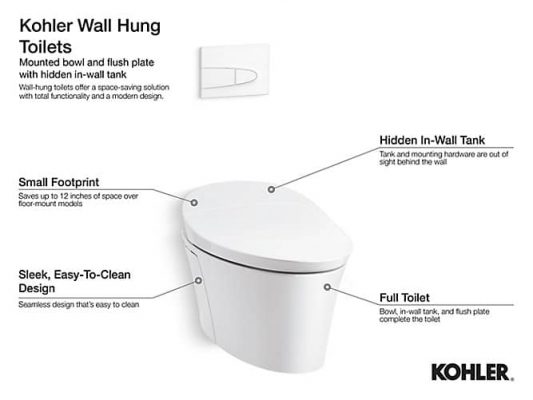 Kohler Veil K-5402-0 Intelligent Wall Hung Toilet
If you want the best experience and top of the line wall hung smart addition to your home, we highly recommend the Kohler Veil K-5402-0 Wall Hung Toilet. Kohler is a highly trusted brand in the plumbing industry.
This Wall Hung Toilet by Kohler Canada offers integrated personal cleansing while saving up to 8 inches of precious bathroom space over KOHLER's longest floor-mount models.
The mounting hardware is completely concealed, giving Veil a sleek, seamless look that is incredibly easy to clean.
Its sculpted core delivers a suite of precision features finely tuned to provide optimum hygiene and ultimate individual comfort, from personal cleansing to an LED nightlight to hands-free opening, closing and flushing.
All of these features are easy to control on a touchscreen LCD remote control. In addition to the remote, you can control the Full and Eco flush using the touchless, Honed White actuator plate included with the toilet.
Kohler Veil Wall Hung Intelligent Toilet Features
One-piece wall-hung toilet with integrated cleansing functionality.
Elongated bowl offers added room and comfort.
Mounting hardware is completely concealed for sleek looks and easy cleaning.
Dual flush offers a choice of 0.8 or 1.6 gpf (3.0 or 6.0 lpf).
Stainless steel wand offers adjustable spray shape, position, water pressure, temperature, pulsate, and oscillate functions.
Front and rear wash modes provide warm water for cleansing.
Self-cleaning function uses UV light and electrolyzed water systems to sanitize the wand surfaces.
Warm-air drying system with adjustable temperature settings.
Automatic deodorization system.
Heated seat with adjustable temperature settings.
Motion-activated, hands-free opening/closing of cover.
Automatically flushes toilet after use.
LED lighting illuminates the bowl to serve as a nightlight.
English-language touchscreen LCD remote control.
Touchless actuator plate in Honed White.
Included components: Complete toilet and seat, in-wall tank and carrier, actuator plate, and LCD remote control.
---
TOTO AP CWT426CMFG#WH Wall-Hung Toilet & In-Wall Tank Unit
This sleek and modern TOTO CWT426CMFG#WH wall-hung toilet with in-wall tank offers an elongated bowl and skirted design, along with their powerful DYNAMAX TORNADO FLUSH® system. This wall-hung toilet saves valuable space in smaller bathrooms. Optional SoftClose seat and Universal Height.
FEATURES
CEFIONTECT® ceramic glaze – prevents debris, mold from sticking to ceramic surfaces
DYNAMAX TORNADO FLUSH® System, high efficiency (1.28 GPF/0.9 GPF)
Elongated Bowl
Skirted Design
Wall-Hung
Universal Height
Seat sold separately
Dual Flushing System, high efficiency
Adjustable 15″ – 19″ mounting height
Supports up to 880 lbs
Commercial 2″ x 6″ or optional residential installation with 2″ x 4″ studs with waste outlet kit
Copper Supply line
Basic Round Push Plate Matte Silver or White Matte
---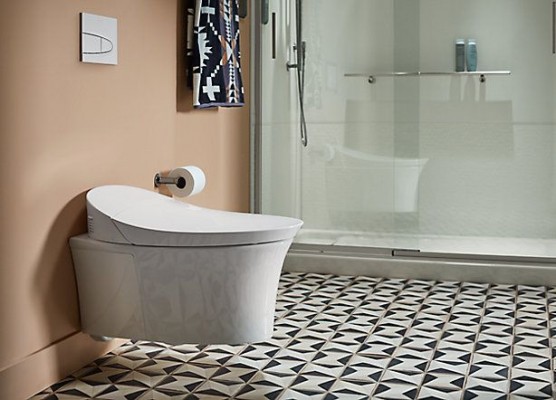 We at Bath Emporium carry these wall hung toilets among others in our showroom. Drop by our showroom in Toronto (Markham) and see for yourself the different Wall Hung Toilets that are on display.
In order to install a wall hung toilet and make the pan solid and stable you will need to use a steel support frame hidden within a furniture unit or boxed within a false or stud wall. This also allows for a certain amount of flexibility in the height at which the pan is set. A cistern concealed within the unit or wall connects to the pan by a short flush pipe and may be operated by a lever to the front, or a push-button to the top.
If space saving is your idea or if you need unobstructed floor for easy cleaning or you simply want to be different, talk to one of our experienced sales staff to help you.
We also ship to all parts of Canada and the USA. If you can't find what you're looking for or if you have any wall mounted toilets problems or need dimensions, call Bath Emporium at (905)944-0060 and our team can help you right away.
---
Our Best Sellers Of Wall Hung Toilets Include:
---
Contact us to discuss your Wall Hung Toilets needs